Greg Churchill (AKL)
July 3, 2021
@
11:00 pm
–
July 4, 2021
@
3:00 am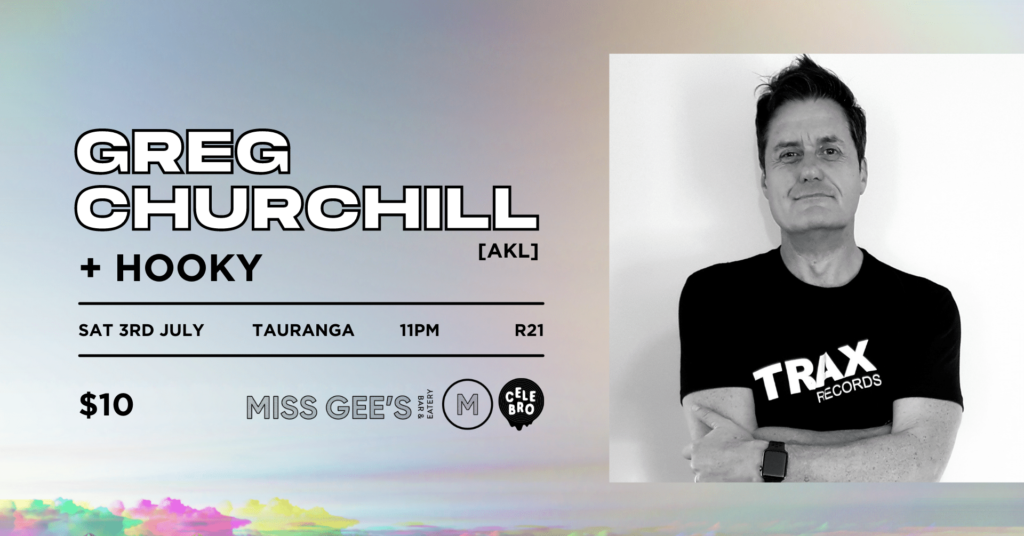 Often referred to as New Zealand's Godfather of House music Greg's journey began in 1984 as co-host to a Friday night dance music show on the Christchurch student radio station RDU.
However it's more as a DJ/Producer for the past 30 years with releases on many of the world's premier dance labels: Underwater, Ministry Of Sound (UK) Toolroom, Great Stuff, Hed Kandi, Azuli, and Gung Ho Recordings that Greg's immense reputation both locally and internationally has been truly cemented.
In 2004 Greg became at the time, only the 3rd New Zealand based recording artist to hit the UK top100 on 2 occasion with tracks Budonkadonk and Body Slander.
In 2006 Greg became the first NZ Dj to release and record on the legendary Ministry Of Sound (UK) with the highly acclaimed compilation 'It's Only A Mix Tape' voted Compilation of the month by Mixmag magazine.
Previously one half of New Zealand premier duo Aural Trash (alongside Angela Fisken) Greg has been voted New Zealand DJ of the year on no less than six occasions and has also been recipient of two prestigious BNets awards.
Now into year 17 of a Friday night residency at Auckland's legendary Ink Bar, Greg can also be found every Friday 1-2pm on 'Friday's Are Different' on GeorgeFM.
Saturday 3rd July 2021 from 11PM
$10 door entry – get in early to avoid the queue.
Brought to you by Miss Gee's & Celebro.
……..
To listen further:
https://www.facebook.com/djgregchurchill
http://www.audioculture.co.nz/people/greg-churchill