Little Fritter (AUS)
July 16, 2021
@
11:00 pm
–
July 17, 2021
@
3:00 am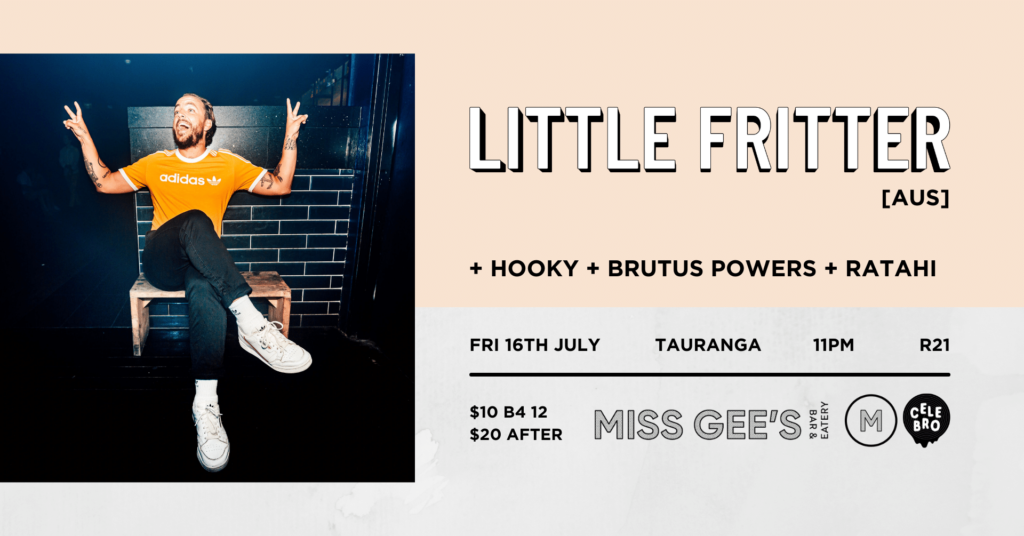 There aren't many humans on this planet that deal in unabashed, fruity fun like Australia's Little Fritter.
Over the last decade, the Gold Coast-based artist has peddled his multicoloured good times across the dance scene, first as a DJ and promoter in his homeland with regular slots and residencies at some of the country's most-loved events such as Melbourne's Revolver, Lost Paradise, Future Music, The BUNKER, Subsonic, and his own Me and You and GOGO TROPICO events, and further abroad at international institutions including Love Parade and Club De Visionaere in Germany, Barcelona's Off-Sonar, and London's Spilt Milk, among many others.
As a producer, Fritter's sound really took hold with a set of releases on Moon Harbour, Hudd Traxx, Catwash, and One Records, with each record showcasing his raw talent for insatiable grooves and tunes that lock you on the dancefloor with intoxicating allure. And it wasn't just the dancers that were drawn to Fritter's rhythms; midway through 2013, he was called on to remix none other than house don Ricardo Villalobos—an honourable tip of the hat from the undisputed master of the groove. His collaborative project Nil By Mouth with fellow Australian's Zare and Alex James has also clocked up considerable play throughout the scene and landed a feature on the yearly Circoloco compilation in 2011.
This year, Fritter returns after a brief hiatus—a creative battery charge if you will—teaming up with long-time best mate and man-of-the-moment FISHER to wreak havoc on the scene. The pair kicked off the year with three sold-out gigs at LA's Shrine Expo and have much more in store in the coming months, including slots at the upcoming EDC events.
Make no mistake, 2019 will be the year of the Fritter; a year in which a whole new generation of ravers will become entranced by Fritter's mischievous magic.
Door entry on the night: $10 before 12AM / $20 after 12AM
See you fritters on the d-floor.
Listen Now