This sweet and refreshing mojito uses gin for a base. Super easy to make, this Mojito will be a stand out for your next cocktail session at home with friends – whenever that will be! Perfect idea for your next soirée, hens party or for the lucky ones who can still drink at the baby shower!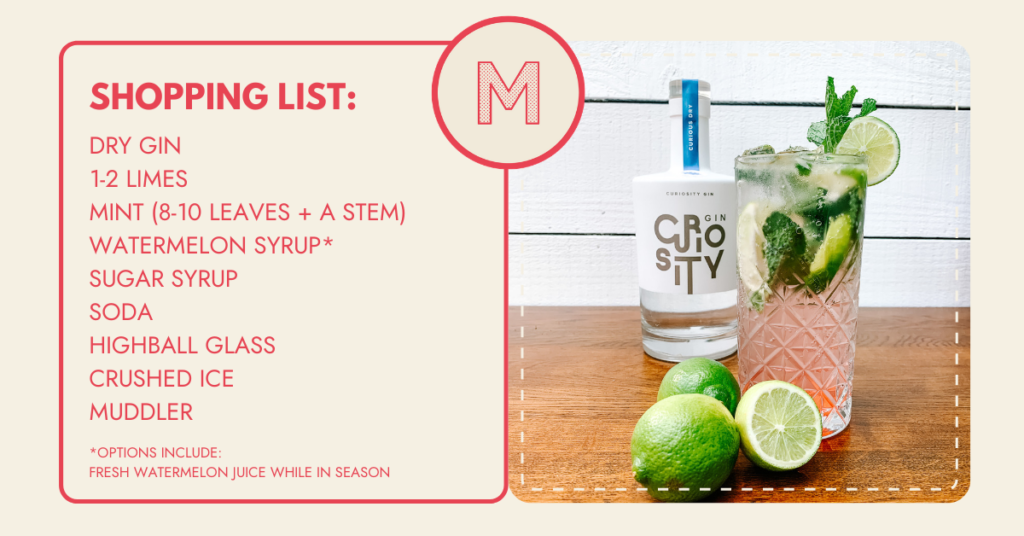 Watermelon Mojito
Here is what you will need:
50ml Dry Gin
Half a lime cut into wedges
8-10 leaves of mint
30ml Monin Watermelon Syrup (or 50ml fresh blended watermelon)
20ml Sugar Syrup
Soda
Mint stalk and a lime wheel for garnish
Highball glass (tall glass)
Generous amount of crushed ice
Muddler (or rolling pin)
In a highball glass, drop in your lime wedges and sugar syrup and then muddle to release the lime juice – use your muddler if you have one or the end of a rolling pin – or if all else fails, squeeze the limes into the glass.
Put 8-10 mint leaves on one hand and clap. This bruises the leaves and releases the aroma. Add to glass.
Half fill the glass with crushed ice
Pour in gin and watermelon syrup (or watermelon juice), stir contents
Fill rest of the glass with crushed ice and top with soda
Using a long spoon or stirrer, stir contents well
Garnish with stem of mint and lime wheel
Drink and enjoy!
Notes on optional items:
While watermelon is in season, blend some up to use as your watermelon portion of this cocktail.
We want to see your cocktails!
Tag @missgeesbar in your snaps on social so we can see what creations you are making!
If you didn't take a picture did it even happen?